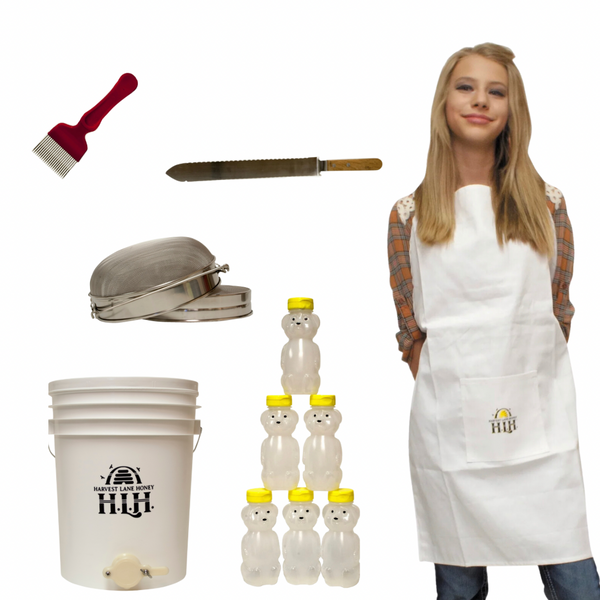 Immerse yourself in the beautiful art of beekeeping with our all-inclusive Honey Harvesting Kit. Thoughtfully curated with both beginners and seasoned beekeepers in mind, this kit includes everything you need for a successful and seamless honey extraction experience.
Included in this kit are the following essential tools:
Honey Bucket: A sturdy and spacious 5 gallon container, perfect for holding and storing your fresh honey.

Sieve: Expertly separates wax and other debris from your honey, resulting in a pure and smooth product every time.

Uncapping Scratcher: A handy tool designed to gently open wax-sealed areas of the honeycomb that cannot be accessed by an uncapping knife.

Angle Knife: Specifically designed for easy uncapping, this tool will effortlessly remove the wax layer from your honeycombs.

Honey Apron: Keep your clothing clean and protect yourself from potential spills or messes during the honey extraction process with this durable and easy-to-clean apron.

6 pk of Honey Bear Bottles: Package your freshly harvested honey in these adorable bear-shaped bottles, adding a fun and charming touch to your yield.
Our Honey Harvesting Kit ensures a stress-free and productive honey extraction process, making it a perfect gift for beekeeping enthusiasts or an excellent addition to your own beekeeping equipment.
Each tool in our Honey Harvesting Kit has been carefully selected for its usefulness and durability, aiming to make your honey harvesting process as enjoyable and rewarding as possible. By taking the guesswork out of gathering your necessary supplies, our Honey Harvesting Kit lets you focus more on the joy of beekeeping and the sweet rewards it brings. Dive into the fascinating world of beekeeping with our Honey Harvesting Kit and experience the sweet satisfaction of harvesting your own honey today!